*WARNING: The following article contains language that may be disturbing. Discretion is advised.
"We've seen a huge outpouring of support from the community, the U of A community and the ethnic community at large," Arundeep Singh Sandhu, a spokesperson for the World Sikh Organization, said on Tuesday. "Even the prime minister has come out against it, the mayor, as well as of course everyday Edmontonians and Canadians have come out against it.
"We've also seen a huge response from the Sikh community and the Punjabi community of Edmonton."
The posters feature a photo of a man with a beard and wearing a turban. The headline reads: "Fu*k Your Turban." Below the photo, the caption reads: "If you're so obsessed with your third-world culture, go the fu*k back to where you came from!" The hashtags "Non-Integrative" and "Invasion" are also used. The website ImmigrationWatchCanada.org is included at the bottom of the poster. When reached for comment, a spokesperson for the group denied any affiliation with the posters.
Once the university became aware of the posters, they were taken down. At least 12 posters were removed on Monday. The university said no new posters were found on Tuesday.
"When it first happened and when we first saw it on Facebook, the reaction was shock and surprise, disappointment and a little bit of anger," Sandhu said. "But, you know, dealing with views like that with anger doesn't really get you very far."
An event to respond to the posters is being planned for next Tuesday, tentatively at the University of Alberta campus between 11 a.m. and 2 p.m.
"The people who put up these posters gave their views and their side of the argument and we're going to give our counterpoint," Sandhu said. "We're going to be wrapping turbans on students at the U of A. While this is happening, they'll be able to ask questions."
Free books will also be available that explain more about Sikh history in Canada and the significance of the turban.
"I'm a big believer in freedom of speech. It's up to the university to decide if that's hate speech. Police are investigating as well," Sandhu said. "But for me, it's how we put our views forward … fight it with education and give people an opportunity to make a decision for themselves of which vision of Canada they prefer."
On Tuesday, different versions of the posters were circulating online. They had apparently been posted on campus in response to the other posters.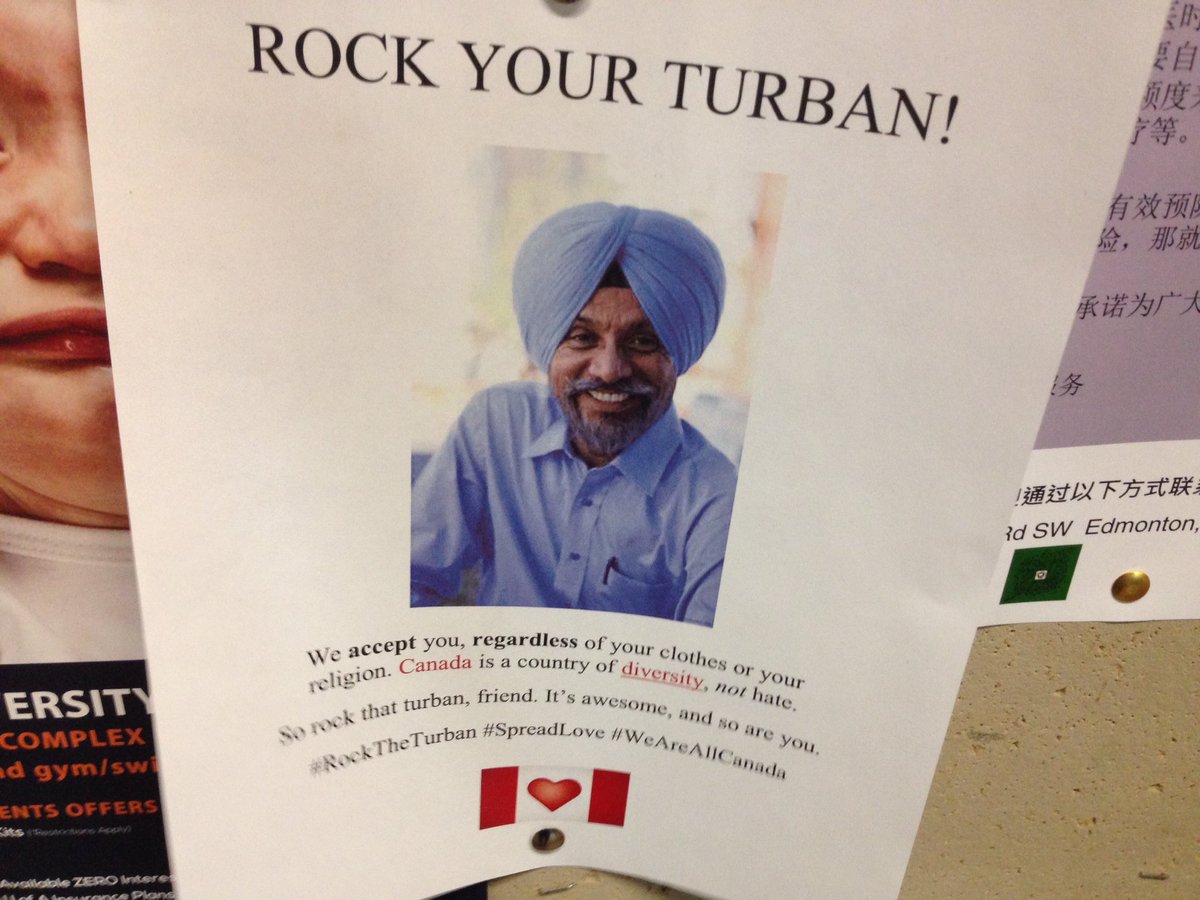 Edmonton's mayor responded to the posters on Monday through a social media message and again expressed his thoughts on Tuesday.
"It's disappointing to see this stuff and I think the strong public condemnation, the quick action by the university to take it down, the round criticism from all quarters every time something like this happens begins to send the signal that we are making it awkward for these people who have these outmoded and ridiculous perspectives of newcomers to our country," Don Iveson said.
"I do think we have some systemic issues and misunderstanding and need for cultural understanding for people but I think most people wouldn't say these things, never mind make posters," the mayor said. "Past a certain point, you have to wonder if these people have mental illness or something. This is just bizarre. It has no place in our city and I'm pleased that the condemnation not just from me, but from all quarters is swift and decisive."
The president of the university also said the posters are unacceptable.  David Turpin said the school does not know who posted them, but they did so without approval.
"This particular act has made me very angry," he said. "This is not the University of Alberta that we know and we'll continue to work with our student leaders to ensure this is a safe and welcoming environment for students around the world."
Still, in the wake of disappointment, Turpin said the reaction to this incident has offered hope.
"The response of the university community has been remarkable. They have reached out to our Sikh community, in particular. They have reached out to other minorities on campus and made them feel welcome and celebrated the cultural diversity that the University of Alberta is known for.
Turpin is also looking forward to Tuesday's event.
"There will be some events coming up in celebration of diversity, there will be a turban tie-in where people learn about Sikh culture and how to tie a turban. There's an opportunity here to reach out and educate each other about cultural diversity," he said. "It's something we celebrate."
Do you like this post?